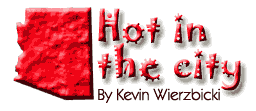 Neal Smith- Steve Hunter
.
Neal Smith of Alice Cooper Band fame and well-traveled guitarist Steve Hunter are spotlighted in our round-up of new music from performers with an Arizona connection.
Neal Smith
KillSmith & the GreenFire Empire
Kachina Records
Okay, so Smith lives on the east coast these days but since the drummer is a graduate of Camelback High School in Phoenix and was a member of the Phoenix-originating Alice Cooper Band for many years, we'll always claim him as one of Arizona's own. KillSmith & the GreenFire Empire is a concept album, the first Smith has been involved with since his work with Cooper, and similarities to the era can be heard right from the album's opening track "Blessings and Curses." As a vocalist Smith is not far off from say, Lemmy, and his gruff and slightly ominous delivery is perfect for rockers like "Screaming Bloody Murder" and "Palacio de Esmeraldas" where the story about an evil South American drug lord wreaking havoc with a drug called GreenFire begins. A few songs later KillSmith comes into the picture; he's a hero for hire bent on ending the GreenFire trade. You don't really need to follow the story to enjoy the record; this is good old '70s-style rock performed by someone who helped make music from that era so memorable.
Order your copy here.
Steve Hunter
Tone Poems Live
Singular Recordings
It may be true that you don't know Steve Hunter by name, but you've definitely heard him play; Hunter plays some of the hot guitar solos on Aerosmith's "Train Kept A-Rollin'," his fretwork is heard on Peter Gabriel's first solo album including on chestnut "Solsbury Hill," he's all over Alice Cooper's Welcome 2 My Nightmare and he plays the intro on "Sweet Jane" by the late Lou Reed. So it's no surprise then that the artist who lives quietly in a small town outside of Phoenix has vaunted players like Tony Levin (King Crimson) Phil Aaberg (Peter Gabriel) and Alvino Bennett (Dave Mason) as his band on this his sixth solo album. Hunter is the star hear though, playing sinuous licks on self-penned tunes like "The Idler" and the funky "222 W. 23rd," playing bluesy guitar on the Allman Brothers-like jazz fusion of "Flying Hippo" and turning down to a whisper for the understated "Glidepath." Everything included in this fine set is an instrumental but Hunter virtually makes his guitar sing the lyrics when he revisits "Solsbury Hill."
Order your copy here.
.
---