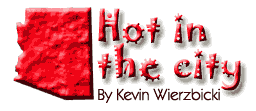 No Volcano
.
Hot in the City, where we listen to music made in Arizona!
No Volcano
Who Saved the Party
Onus Records
Hometown: Phoenix
New imprint Onus Records makes an impressive debut with the latest from this rock four-piece who start the nine-song offering with a song called "Tribute" which may or may not be an homage to the Meat Puppets. With woozy slide guitar and an overall psychedelic feeling, the song sure sounds like something the Pup Boys might have done. A bit of that vibe carries over into "New York Drugstore" but that's where it ends. Singer Jim Andreas has a voice that sometimes recalls Mott the Hoople singer Ian Hunter and that's especially noticeable on the grungy garage rock of "Historian" and psych-rocker "The Long Game." And while the title cut, "Keyhole" and "Out of the Moment" also resonate with '70s cool they sound more like, infused with a little jangle, that they were crafted with today's indie rock radio in mind. If Onus Records keeps popping with bands as good as No Volcano there'll be no question as to who saved the party.
Visit the band's Facebook page here.
.
---