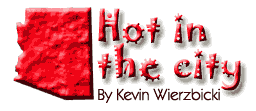 Pistoleros - Silver
.
Although they've taken a break or two along the way, one of Arizona's most beloved bands has just celebrated their 25th anniversary, hence the reason for calling this album
Silver.
With that amount of experience under their belts it's no surprise to hear vocalist Lawrence Zubia singing lines like "Take your time/The past will soon be here…" on "You're Not Alone" or issuing a bit of advice to the slightly confused on "Lost & Gone." The latter cut sounds very much like the Gin Blossoms, no surprise since the Gin Blossoms and Pistoleros were two of the main proponents and definers of what was once called "the Tempe sound." The album strikes a good balance lyrically between helpless and hopeful; an example being "Did You Wake up All Alone" where a spoken intro chronicles a dismal situation that turns out to be a breakup that, alas, turns out to be for the better. More reflection comes via the country-tinged pop of "Parts of Yesterday," a cut that uses the song's title for its very catchy chorus. Other standouts include the buoyant "NYC Queen," the appropriately carefree and breezy "Summertime" and the subdued album closer "Broken Man." Longtime fans will love this record and there's never been a better time for new fans to check out Pistoleros.
Get it here.
advertisement