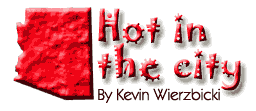 Job For A Cowboy, Ti 22 and Godhunter
.
This time out our spotlight on music made in Arizona shines on --- what else during an Arizona summer --- lava hot molten metal with new releases from Job For A Cowboy, Ti 22 and Godhunter.
Job For A Cowboy
Demonocracy
Metal Blade
Hometown: Glendale
Singer Jonny Davy founded Job For A Cowboy when he was in his mid-teens and barely an imp-in-waiting. Now a full-grown demon and the only remaining original member of this death metal outfit, Davy has taken his band from upstart wannabes to one of the most in-demand groups on the metal scene today. It's easy to hear why on cuts like "Children of Deceit" where Davy growls out his lyrics in devil speak alongside incessant rat-a-tat drumming and killer riffing that seamlessly incorporates nods to not only Megadeth but also classic rockers Rush into the hell-beat. JFAC has suffered a bit in the past because of frequent line-up changes; that situation seems to be nicely resolved now with the fairly recent addition of flame-throwing guitarist Tony Sannicandro and former Cephalic Carnage bassist Nick Schendzielos. Among the best of the nine new songs here is the delightfully-titled "Tongueless and Bound," a manic thrashing of instruments with quick bursts of melodic guitar from Sannicandro and non-stop gruff but suave growling from Davy.
Ti 22
47.867
(Self released)
Hometown: Phoenix
Good morning, class. Please open your books to the Periodic Table. Now what do we know about titanium? That's right, its symbol is Ti and its atomic number is 22. The atomic weight of titanium is 47.867. And what is a common use for titanium? Jimmy? No, the answer I'm looking for is not "used in fireworks." If you had been paying attention you'd know the correct answer is "to rock your ass off!" Just like the element itself, the titanium loving band Ti 22 is strong, corrosion resisting and most definitely metallic. They prove it on this six-song E.P. with "78" and "Shady Little Tree," a couple of meant-for-the-radio rockers featuring lyrics you can sing/shout/growl along to and stinging riffage from guitarists Earl Leet III and Joey Salvo. The sound gets a little harder for the Metallica-meets-Pantera "Endurance" while the E.P. closing "S.U.A.D. (Shut up and Die)" demonstrates how easily the guys can segue from suitable-for-mass-airplay to underground metal within one song. Expect more heavy goodness from Ti 22 soon; they're currently in the studio blasting away at new material.
Godhunter
Wolves
(Self released)
Hometown: Tucson
Slow and sludgy and full of fuzzed-out guitar buzzing, Godhunter plays what's probably best described as stoner rock. As such they're not in any hurry to get to the vocals; on "(Stop Being) Sheep" singer Charlie Touseull waits three minutes, fully half of the song, before beginning his angst-filled screaming. Touseull's vocals are not bad but they're also not much different from those employed by any number of other bands and it's the instrumental portions of these songs that are the most enjoyable.

.
---