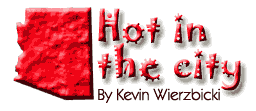 Best Dog Award- Consider Me Dead- Mallevs
.
Hot in the City loves the Arizona music scene and with bands putting out releases like the ones we profile this time out, we have good reason. Slap on some headphones, slather on some sun lotion and come along as we check out some of the summer's, well, hottest releases.
Best Dog Award
Faith-Based Space Place
Hometown: Tucson
This T-town trio calls their music "dad rock" and if you roll with that description it means that the dads who are digging BDA are pretty darn cool. The term might lead you to believe that the band is into grunge or something further back, but actually the five songs on this EP are thoroughly modern layered dreamscapes similar to what bands like MGMT have done quite nicely with. Singer Joe Crocco sometimes waxes a little Lou Reed-ish but these guys are more about jangle and you won't hear anything depressing in songs like the bouncy, chime-enhanced "Lady Sagoon" or the sprightly "Nectarines."
Consider Me Dead
Young at Heart
Hometown: Phoenix
Modern electro pop with lots of programmed synth and smooth vocals is the order of the day for this trio and the hip-hop flavored "The Eulogy Ballroom" is typical of the tunes here that are aimed straight at the pop charts. The band has in main men Chris Brewington and Brandon Pettitt two very talented singers and their vocal interplay on songs like "Up All Night," the title cut and the percolating "Digital Demons" make Consider Me Dead a group to watch. Scratch that; these guys are just one short step away from the big time.
Mallevs
(Self titled)
Hometown: Phoenix
They're not quite as dark but this trio plays industrial-tinged synth drone that fans of acts like Gary Numan will find familiar. EP highlights include "Grave," a long groove with a lengthy instrumental intro that puts the listener in a trance; by the time the distant and haunting vocals come in all that can be done is to sway along silently. "No Space" is the clanging-est tune here with percussion that'll shake you out of your trance and "Stages" is a little alien invasion buzzy but "Psychic Lines" finishes the trippy effort by heading back out into the ether where it all started.
.
---