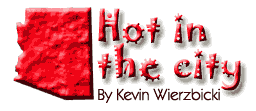 Wishbone Ash
.
Our Hot in the City column is a bit different this time out; normally we spotlight Arizona musicians and music made in Arizona. This time though we're excited about news from the British classic rock band Wishbone Ash; they have a massive box set about to release and they're coming to Phoenix for a show.
April is going to be a big month for Wishbone Ash and their fans. Madfish Records has announced an April 27 release date for Wishbone Ash: The Vintage Years, a 30-CD box set that'll be loaded with previously-unreleased material. Covering 1970 through 1991, the set will include CDs of the 16 studio albums released during that time frame, all of which will be embellished with rare album outtakes, B-sides and previously-unreleased tracks. The band's three live albums from that period, Live Dates, Live Dates Volume Two and Live in Tokyo will also be included, as will eight previously-unreleased live albums (on 11 CDs) that were recorded between 1973 and 1980. The box is topped off with a 156-page hard cover book, a 36-page poster book, four posters, a flexi disc, a facsimile MCA debut album promo pack and individually signed photos of each band member. Colin Elgie created original artwork for the box set; he's the artist that designed the covers for the Live Dates albums. Obviously the set will be pricey but fans should not wait too long to get one in hand; only 2500 copies are being made. Preorders are being taken here
The Wishbone Ash "Open Road" tour will begin in early April and continue through late in the month. Phoenix area fans will be pleased to know that the band is returning to The Rhythm Room for a show on April 18; The Rhythm Room is an intimate venue where fans can get close to the band, which currently consists of original guitarist and singer Andy Powell, guitarist Mark Abrahams, bassist Bob Skeat and drummer Joe Crabtree. Abrahams is new to the band; he replaced 12-year Wishbone Ash veteran Muddy Manninen last year. "Everyone is rested and fighting fit and we're looking forward to introducing new audiences to wunderkind Mark Abrahams on guitar, while hopefully surprising folks with some tunes from the vault," Powell stated through the Wishbone Ash publicist. The tour begins in the southeast and then heads west through Texas to California. For a complete list of tour dates and to follow Wishbone Ash go here.