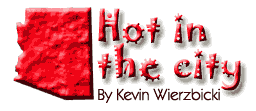 Holiday Shows at Mesa Arts Center
.
There's always a wide-ranging selection of shows on tap at the Mesa Arts Center in metropolitan Phoenix and the upcoming holiday season is no different. Read on to see all the festive fun coming to MAC's Ikeda Theater, including a performance by the always popular Mannheim Steamroller.
Dec. 13 - The Phoenix Symphony presents Handel's Messiah
Featuring some of the most amazing sacred music ever written, Handel's Messiah is a perennial holiday favorite. The Phoenix Symphony will be conducted by Matthew Casper and the Phoenix Symphony Chorus will feature world-class soloists Yulia Van Doren (soprano), Daniel Taylor (countertenor), Norman Shankle (tenor) and Richard Ollarsaba (bass-baritone). Hallelujah!
Dec. 15 - Holiday Pops
This special matinee performance (3 pm) is geared to children (of all ages!) A longtime Valley tradition featuring The Salt River Brass, the theater will be resounding with familiar holiday favorites and classics that are guaranteed to inspire sing-alongs and fun for the whole family.
Dec. 17 - Dave Koz & Friends Christmas 2019
Sax man Koz has been bringing his Christmas show to MAC for a long time and anyone who has been to one in the past will tell you it's a not-to-be-missed event. Koz brings different "friends" with him every year; this time out the talent includes Melissa Manchester, Jonathan Butler, Michael Lington and Chris Walker. Koz will play Christmas and Hanukkah favorites and more. Meet-and-greet VIP experiences are also available.
Dec. 19 - Na Leo Holiday Concert
Aloha Santa! Na Leo is Hawaii's #1 female music group of all time. Comprised of Lehua Kalima, Angela Morales and Nalani Jenkins, Na Leo (it means "the voices") will perform contemporary pop ballads along with traditional Hawaiian and holiday classics. You can wear your Hawaiian shirt and your Santa cap!
Dec. 22 - Dreams of Winter
This show features the 150-member Tempe Community Chorus who'll perform popular holiday songs like "Carol of the Bells," "Little Drummer Boy" and "Peace on Earth" along with pop songs like Queen's "You're My Best Friend." The Mill Avenue Singers and other performers will also appear.
Dec. 26 - Mannheim Steamroller Christmas by Chip Davis (3 pm and 7:30 pm)
Yes these shows take place the day after Christmas but the holiday spirit will be in full force as Chip Davis brings his Christmas spectacular to MAC. Mannheim Steamroller is the biggest-selling Christmas music artist of all time and if you've ever seen them you know exactly why.
For more information on these shows and a complete list of other shows coming to Mesa Arts Center go here