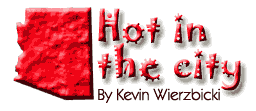 Rob Halford In-Store Event And More
.
We're looking forward to some great shows that are coming up in the Phoenix metropolitan area during October, and we're super excited about a special event with Rob Halford! Read on for the details.
Oct. 19 - Rob Halford in-store signing - FYE - Tempe
If you're like us, the first thing that crosses your mind when you think Christmas is Rob Halford! Okay, we're kidding, but metal fans will soon have a reason to associate the metal god and Judas Priest front man with the holiday season. Halford will release a seasonal treat called Celestial on Oct. 18; the effort will feature Rob's takes on popular holiday songs like "Deck the Halls," "Good King Wenceslas," "Joy to the World" and "Away in a Manger" along with four new cuts. Fans in Arizona can get their copy of Celestial autographed when Halford appears at the FYE store at Arizona Mills in Tempe (5000 Arizona Mills Circle, #612) at 2:00 pm Oct. 19. No word yet on whether or not Halford will ride into FYE on his Harley.
Oct. 19 - DBUK - The Rhythm Room - Phoenix
After you've met Rob Halford you'll still have plenty of time to scoot over to Phoenix to catch the show by Denver-based DBUK. An offshoot of Slim Cessna's Auto Club, the band plays what they call gothic Americana; layered music full of harmonies and innovative percussion with gothic sensibilities. So yes, a little bit dark. Band members are Munly J. Munly, Lord Dwight Pentacost, Rebecca Vera and Slim Cessna. The Oblivians headline this seven-band show, so big that it needs to start at 2:00 pm.
Oct. 22 - Vandoliers - The Crescent Ballroom - Phoenix
This Dallas-based six-piece released a new album called Forever last February and undoubtedly they'll be showcasing plenty of the new tunes when they hit the stage at Crescent Ballroom. Expect to hear a rocking amalgamation of defiant punk, Red Dirt country and even some Tejano music from the band, who don't mind if you label them "Converse cowboys." Vandoliers will be opening the show for headliners Lucero; this downtown Phoenix show starts at 8:00 pm.
Oct. 29 - Lucy Dacus - The Crescent Ballroom, Phoenix
Are you hip to Lucy Dacus yet? You probably are, since her Historian album from last year made Best Album of 2018 lists at tons of publications. Lucy loves to release special songs around various holidays and she'll likely serenade fans with her just-released Halloween-inspired take on the Phil Collins hit "In the Air Tonight." Liza Anne and Sun June open the show which begins at 8:00 pm.