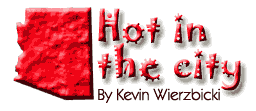 Job For A Cowboy, American Black Lung, Fred Green, Mostly Bears, Melissa Cohee, Obadiah Parker, Luca, The Earps, Jeff Dahl, Ty Lusk
.
Yes, it's true that little old Glendale, Arizona isn't so little anymore. The once sleepy bedroom community adjacent to Phoenix is gearing up to host the 2008 Super Bowl. But Kerrang!, Guitar World, Revolver and Alternative Press are all talking about Glendale for a different reason---the fact that hard-as-nails extreme metal outfit Job For a Cowboy hail from there. The band has really been shaking things up with their new Metal Blade recording and they were just given the award for Best Underground Band at the Metal Hammer Golden Gods Awards in London. So congratulations guys. Now about playing the National Anthem at the Super Bowl…
JOB FOR A COWBOY - Genesis
Metal Blade
Underground band, indeed. These guys come from so far down that they don't even have to buy instruments. All they need to do is burrow a little deeper into the bowels of the Earth and bust in the back door at the Devil's Music Store, take what they want and skedaddle back to their lair. Of course Old Nick isn't going to stand for this and these bad beasties aren't exactly hard to track down---they make so much noise that they're clearly heard over the racket of eternal damnation. So now the fun begins as the Devil bursts in to reclaim what's rightfully his; "Gimme them guitars boys, and oh by the way…I'll take your souls too!" But the band ducks the chunks of brimstone flying their way and counter with a barrage of flaming drum sticks, stiletto-sharp guitar riffs and tortured howling to wake the dead. But Satan is strong and he chases the band right out of the underworld and into the light! Little girls shriek in terror and grandpa runs to get his shotgun! Now the battle has to be waged on two fronts, and battle will be waged! Yeah, the music of Job for a Cowboy is a little like that. Saddle up and hang on for dear life. Artist Homepage
FRED GREEN - Still Burnin'
(Self released)
Fred Green is not one man but rather a well-seasoned power-trio consisting of guitarist and singer Todd Minnix, bassist Sam Lersch and drummer and singer Chris Peeler. The band plays a heavy version of stoner rock but they can take it in any number of directions and sound good. "Brand New Shoe" taps into a funky rock sound virtually trademarked these days by the Red Hot Chili Peppers, "Every Little Thing" and "Habit" both recall Sublime but "In a Minute" finds Fred Green rocking like Primus-meets-King Crimson as Minnix heads for the stratosphere with Zappa-esque licks. "Lose the Attitude" backs down a little with its bouncy and beachy melody; kind of like Jack Johnson with bigger cojones. These guys are a little bit grunge and a little bit Hendrix but they're also fans of reggae and Steve Miller, a fact that they flawlessly demonstrate with "Today." Artist Homepage
AMERICAN BLACK LUNG - Sudden Departure of Vultures
Uprising
First off I have to say that I'm intrigued by the names that the members of American Black Lung go by. One of the guitarists is Johnny Detroit (the other is Easy E); the low end is held together by bassist Dusty Rhoads and drummer W. Moon, but…wait for it…the singer calls himself Diamond Rhino! That moniker sounds like a cross between a diesel truck and a strip club and come to think of it that's kind of fitting as the bejeweled horned one charges into this set like he's got a couple of cheetahs on his ass and another one clawing at his throat and by golly he's enjoying every second of it. "Behold the Mighty Galactus" features a speedy heavy metal riff that ultimately slows down to bass-heavy Black Sabbath sludge and the influence of "classic" rock is very noticeable here. But don't expect to hear Journey or Styx riffs---I'm talking classic hard rock like the Zeppelin you hear in the mundanely titled "Pair of Cufflinks." Rhino meanwhile wails with depravity like he's fronting a hardcore band and Sudden Departure of Vultures will no doubt find the band reeling in fans of all types of heavy music. Artist Homepage
MOSTLY BEARS - Only Child
Funzalo
The music of this Tucson trio reminds me of some of the more underground sounds that came out of the Athens/Atlanta scene twenty years ago in that they have a knack for sounding structured and freeform at the same time. "The Unassuming One" mixes an exotic alternative sound like that of the Swimming Pool Cues with a folksy psychedelia (think the Grateful Dead circa American Beauty) and "Leda Atomica" sounds like a Lyres/unplugged Strokes mash-up with a little Leo Sayer (!) thrown in. There are only four songs on this E.P. (six if you count the two songs repeated as remixes) and that's a little short to get a handle on exactly what these guys are all about but long enough to demonstrate that whatever it is, it's all good. There's probably lots of college radio airplay in the future for Mostly Bears and if they choose to make one any of these slightly quirky tunes would lend itself nicely to being made into a video. Artist Homepage
MELISSA COHEE - Expression
Beatlocker Music
Look out Christina, Arizona's entry into the soulful pop star race is dancing into your spotlight! Melissa Cohee has an incredible range that allows her to slide effortlessly from a soulful purr to a fluffy whisper, often over the course of only a few beats. And beats-a-plenty there are as Expression heads for the dance floor (or living room or sidewalk or anywhere there's room to move) with rhythms that rely as much on synthesized hand claps as they do on drums. The lyrics on "Do Something" cause Cohee to stumble just a little as she sings lines that include phrases like "you're all up in my face" and "you must be trippin';"---Expression is definitely fun hip-hop but the overt use of the urban slang seems gratuitous. But really the words here, which are mostly well written, aren't the thing anyway; the idea is to move your feet while you get lost in Cohee's sweet symphony and with that in mind this debut is a complete success. Cohee won the Reader's Choice Award for Best Local Performer in Arizona 2007 at azcentral.com. Artist Homepage
OBADIAH PARKER - Obadiah Parker
(Self released)
A chance posting on YouTube of Obadiah Parker's cover of Outkast's "Hey Ya" resulted in the video getting over 10,000 plays a day and it eventually surpassed the half million mark. Part of the version's appeal is the fact that it is so completely opposite of the original; sung slowly by Mat Weddle to the accompaniment of his acoustic guitar the song trades it's mania for a laid back, stoned-out groove. This album is live and the band reprises the song here and keeps the vibe in tact but they also shine on half a dozen original cuts. Among the best of them is "Burnt Offerings," a funky number that percolates to Jessie Young's keyboard riff while Weddle and bass man Daniel Zehring both do some finger-popping fretwork; the song also features a nice trumpet solo from Young. Young's trumpet playing takes the lead for a good portion of "I Can't Stop Thinking About It," a Mick Collins (the Dirtbombs) number that loses its Motor City grit in favor of a Tijuana Brass-style romp. The album is rounded out with savory takes of Bjork's "Who Is It" and Radiohead's "Ideoteque;" songs that may not get half a million plays but clearly show that Obadiah Parker is far from being a one-trick pony. Artist Homepage
LUCA - Coming in for a Landing
Funzalo
This quartet takes it name from front man and multi-instrumentalist Nick Luca who sings and plays electric guitar here, occasionally turning to keyboards or blowing some harp. Nick also plays in John Doe's band and Luca has an affinity for music that like Doe's seems to be fully acquainted with the pain ("Crumbling Inside") and pleasure ("I've Been Driving") of the eternal itinerant. This set was captured live at Tucson's Club Congress and the band cover's Lou Reed's "Walk on the Wildside" early in the show; the tribute is a crowd pleaser but the version of the late Rainer Ptacek's haunting "Loosin' Ground" that immediately follows is an absolute smoker that makes you wonder why Nick even fools with stuff like "Wildside." Other highlights include the spy-fuzz original "Vampire Bat" and a cover of Jonathan Richman's "I Was Dancing in the Lesbian Bar." Two bonus live radio cuts append this satisfying collection. Artist Homepage
THE EARPS - Here Come the Earps
Big Bender
"Somebody please tell me where that 20-foot chicken came from!" That line comes from the Earp's "Rooster Run," a song that typifies the Earps humor-infused rocking hillbilly. "I Love Las Vegas" features steel guitar, a few obligatory words from "The King" and a shameless confession that the rent money was spent on hookers and blow. "Phone Ain't Ringin'" sounds like the Georgia Satellites and is another funny bit of wordplay but the hot guitar playing on the song accents the fact that these guys may like to have a laugh vocally but they're completely serious with the music. The band's singer is Hotwheels McGregor and he constantly sounds like he's one white-lightning swig away from a straight jacket or at least a jail cell (think Mojo Nixon) and that's the perfect attitude for the George Thorogood-style choogler "Christ on a Crutch." These guys are sort of the musical version of Jeff Foxworthy's "You might be a redneck" routine. Maybe this line from the Bakersfield rave-up "Drag Queen" sums this disc up the best; "I made love to a drag queen and I don't even know her name." Artist Homepage
JEFF DAHL - Battered Stuff-One Acoustic Mother
Steel Cage
Dahl's motto is "3 chords and a bad attitude since 1976" and back in those early days he was a member of Angry Samoans. He played in Vox Pop too, a band that included members of 45 Grave, Germs and Dream Syndicate. His discography stretches to 26 albums and 100 singles, including recordings with Cheetah Chrome of the Dead Boys. Here Dahl is a one-man show; he wrote these 9 songs, played all of the instruments and did the engineering and producing himself (that's what 30 years of honing your craft will allow.) The One Acoustic Mother part of the album's title is a little misleading; it is a mother indeed but not so acoustic. "Vaguely Picasso" sounds like something that could have been on Exile on Main Street if Graham Parker was fronting the Stones while the loping "California Blues" finds Dahl inserting wisps of electric guitar that starts out bluesy but melts into a psychedelic finish. "Sandwich" is a short blues number with a concise harmonica part and lyrics that may be metaphor or may actually be about having lunch. "Outta Luck" features an acoustic guitar arrangement that many will hear the Stones' "Angie" in but long time fans will appreciate this entire album for the journeyman showcase that it is. Artist Homepage
TY LUSK - Live at Club Red
(Self released)
This live set finds Lusk playing acoustic guitar and singing mostly originals backed only by a second guitarist, Steve Queior. Lusk writes tunes that would very obviously rock out with a full band but the two-man approach works nicely here on numbers like "Carpe Diem" and "Biggest Fan." "Little Harelip Boy" is a folksy tune with blunt lyrics that become touching when, at song's end, Lusk indicates the song is about him. "I'm a Realtor" is also about Lusk, a song that he sings with ferocious abandon as if he were declaring himself an alien or maybe a pirate. Lusk having fun with his (pretty well written) words is what this effort is all about but he's no slouch with his guitar and Queior positively smokes a generous solo on Robert Earl Keen's "Road Goes on Forever." Lusk closes out the album with a take on Prince's "Purple Rain" and the raucous original, "Rocky Point." Artist Homepage
Arizona-based musician? Got new music? Get in touch!

.
---
...end